Your home by the sea…
5 minutes from the beach and well connected to the center
The Albicocco is a hotel with swimming pool located in the Marano area of Riccione; a vibrant area with plenty to do, just 5 minutes from the beach and well connected with the town centre. You'll find a friendly and light-hearted atmosphere and only the best Italian hospitality.
Three swimming pools, plenty of relaxation and fun
one for adults, one for children and jacuzzi too
A host of services and facilites await, such as the three swimming pools in the hotel's outdoor area: one for adults, one for children and one jacuzzi pool, each of which will help brighten your stay. The functional and welcoming bedroomsmake each guest feel right at home, in keeping with typical local hospitality.
Free evening shuttle service!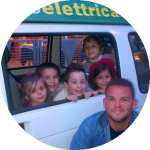 For an holiday Riccione without worries and stress and in totally relax… In the months of June, July and to the beginninf of September, from 8.30 to 12.30 pm, you can reach the town center of Riccione, without having to use your car. You can book the shuttle a few days before.
The best of Mediterranean cuisine
many hearty dishes and rich flavor
At the Hotel Albicocco, we organise evenings with live music and karaoke and each Sunday there's our aperitivo night, where you're treated to a selection of savoury appetisers and you can try products from the Emilia Romagna region: is fun is assured for adults and children! To enjoy your holiday with the right amount of lightheartedness…
At lunch and dinner, the finest Mediterranean cuisine is served in our ample restaurant, with a bounteous range of dishes offering rich flavours and abundant portions, and a selection of desserts, fruit and ice cream to finish off! Children are especially welcome at the Albicocco, as this hotel with swimming pool in Riccione offers a host of services to cater for our younger guests! Between the colourful games room and the shallow children's pool, it's impossible for the kids to get bored!
In the area around the hotel, you'll find many attractions to make your holiday in Riccione extra special. From the Rimini Terme thermal springs to the go-kart track, the amusement park with trampolines, roller skating rink and the Sailing Club where you can take courses in sailing, windsurfing and much more.
The Hotel Albicocco is also near the Beach Village, a water park built on the sandy beach, where, as our guests, you're all entitled to unlimited free entry!
And the hotel Albicocco is just 1,500 meters from the renowned Riccione Swimming Stadium, within easy walking distance!